Dry floor fountain is one of the main forms of fountain project. In fact, it is almost the same as the water fountain, but the one of differences is that all the equipment is installed underground, and the water and lights come out from under the stainless steel cover. in addition, the amount of water for the dry-land fountain is limited, therefore, some types of fountains with large water demand cannot be implemented in it, such as ultra-high fountains, and considering safety, such as flame fountains and air explosion fountains cannot be used in this kind of fountain project.
We'd love to hear from you! Fill out the form below and our fountain designer will contact you shortly.
We provide full service solutions
Our design engineers will provide the unique design drawings to our customers within 3 working days after getting the important information from customers. Customers can inquire about design proposals or make requests at any time.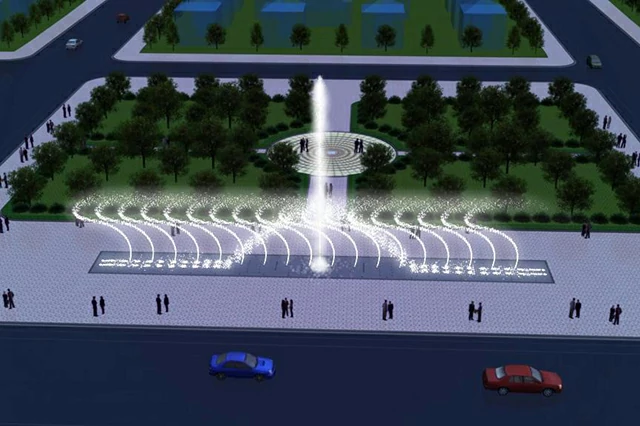 We can animate your fountain design so you can visualize the effect of the fountain, which usually only takes 7-10 business days.
Customized production equipment by our own factory, which usually takes 15-30 days. (depending on the size of the musical fountain project)
04 Packaging and Shipping
We use sturdy plywood boxes to pack the products. And each equipment is protected with bubble wrap when shipping.
05 Installation & Commissioning
We send engineers to the installation site to give customers the best guidance and assist in completing the installation as soon as possible, which is the most economical. After the on-site installation is complete, our engineers will debug the fountain to bring the most beautiful fountain show to our customers.
We provide 2 years free warranty and lifetime technical support for musical fountain projects. During the installation process, our engineers also give technical guidance to customers, so that they can handle most of the fountain situation by themselves.
How to start working with us?
We need this information from you so our engineers can design the best solution for you:
> Types of fountain items.
> The location and size of the fountain. (CAD drawings or other documents.)
> Water quality. (Sea or fresh water.)
> Budget. (if any.)
> Voltage and power.
> Special requirements. (if any.)
Common Fountain Types In Dry Floor Fountain:
Multidimensional swing fountains. The solenoid valve running fountains. Laminar jumping jets fountains. Variety flower fountains. Array foam fountains.
Application Scenarios Of Dry Floor Fountain:
It's suitable for places where people are active, such as squares and parks. Because of its interactive features, they are very suitable for building in these places.
1) People can walk freely on the ground when the dry fountain is not in operation. So this kind of fountain does not take up space.
2) It has interactive features, so people can get close to the fountain.
3) We use scientific underground pipelines and line layouts, so the failure rate is extremely low.
request a quote
get in touch with us
We'd love to hear from you! Fill out the form below and our fountain designer will contact you shortly.