Musical Dancing Fountain ( river/ sea/ lake )
Dancing fountain located in the sea, lake and river.
(sea fountain/ lake fountain/ river fountain)
We combined the musical fountain with modern laser projection technology and digital imaging technology. And successfully completed many outstanding fountain projects and water show performances.
Material Of Muscial Dancing Fountain:
We mainly use stainless steel to build musical dancing fountain projects.
Under fresh water conditions, we mainly use 304 stainless steel. And under sea water conditions, we use 316 stainless steel.
Therefore, the fountain is not easy to rust, thereby prolonging the service life of the fountain.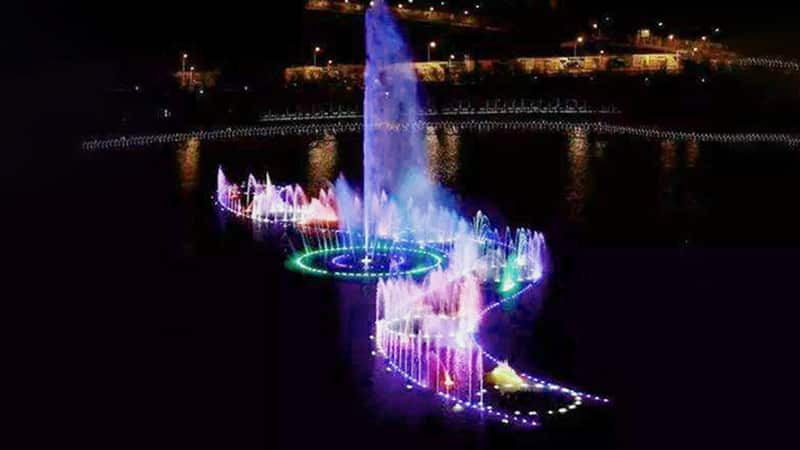 1) The customers provide the relevant parameters and specific requirements.
2) our senior engineering design team design the fountain project according to the customer's requirements and budget.
As our team combines local history and humanistic features in the design process, and adds modern aesthetics and technology, so the design adoption rate is as high as 99.9%.
The Water Shape Of The Fountain:
We invest a lot of money every year to develop new fountain equipment products. So we can ensure the novelty and diversity of fountain water shapes.
Moreover, we will develop 1-2 patented products every year on average.
Specifications Of Musical Dancing Fountain:
Large-scale fountain projects need to use floating row equipment. Because the floating row equipment can't only solve the problem of deep water. This kind of fountain is also known as floating fountain.
We'd love to hear from you! Fill out the form below and our fountain designer will contact you shortly.
NEIJIANG HUAXIN ART FOUNTAIN FCATORY
A musical fountain service provider integrating large-scale musical fountain projects design, construction and installation.
Fountain water show is the artificial fountain applied by contemporary control technology,combined fountain itself with music through contemporary control technology.
Adjustable straight nozzles are widely used in fountain pools in various occasions. They are necessary nozzles for musical fountains. The nozzles are equipped with spherical joints and the angle of the nozzles can be adjusted. They can be combined into fountains with different effects.
fountain lights fountain light with hole Fountain light with hole Features:A. Thick stainless steel body.B.
Ⓒ Neijiang Huaxin Art Fountain Factory 2021 - All Rights Are Reserved